Keep your Member Accounts up-to-date by posting payments that members made with cash, check, or other payment methods.
Go to: Manage>Payments>Offline Payments
How to Add a New Offline Payment
This is for payments made with cash, check, or other payment methods outside of Chorus Connection.
Click New to add a new payment.
Click Add Payment next to the member's name you need.
Click the to add the item to the cart.
Click Continue.
Choose the Payment Date.
Choose the Payment Type.
Enter the Payment Amount.
Note: You can enter a partial payment and the system will display the remaining balance.
Click Add Note to enter additional information about the payment. (e.g. Check Numbers)
Click Submit.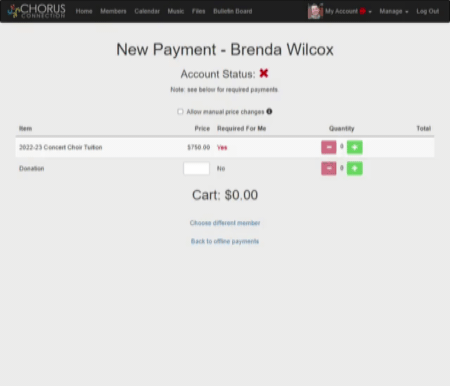 Note on Installment Payments: If you're posting a follow-up installment payment, you'll see an option to Make Next Payment next to the store item. Use the Next Payment option instead of creating a new payment for the same item.
How to Edit An Existing Offline Payment
Click Edit next to the payment you need.
Make changes to the Payment Date, Type, or Amount.
Add or update a Note.
Click Submit.